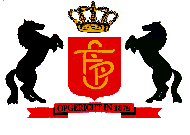 Signature Friesians

FPS Approved Stallion Videos
We at Signature Friesians hope everybody enjoys this page....
Would you like to link your Website to this page?
If so, please email us and let us know.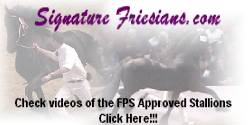 Above: Hyperlink button to be used for this page
Click on photo to enlarge or click on Name/video # to view video...
Signature Friesians
Home/Signature/For Sale/Friesian Info/News/Semen/Stallions
Mares/In Memory/Photo Gallery/Gypsy Horses/Email
© Copyright 2002-2006 Signature Friesians. All Rights reserved.
No part of this site may be copied, downloaded or distributed in any way without
written permission from Signature Friesians.
1